By 1960, the International Rescue Committee faced a crossroads. The IRC had begun as a temporary committee, arising from a crisis in Europe. The question that now arose went to the core of the IRC's mission and was to determine its course into the 21st century. Did the IRC's mandate extend to aiding the many thousands of refugees being driven from their homes in Asia, Africa, and Latin America?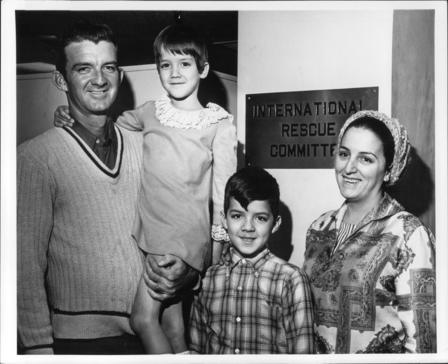 The IRC's leadership decided that to limit its mission to the borders of Europe would betray the impulse on which it was founded. Instead, the IRC determined that the organization had a global mission and responsibility.
From 1960 to 1967, the IRC helped people fleeing Haiti, the Dominican Republic, Angola, Uganda, and Nigeria. During those same years, the IRC began a long-term relationship with people fleeing Cuba. In 1959, rebel forces in Cuba overthrew its unpopular dictator, Fulgencio Batista. A young revolutionary by the name of Fidel Castro took control of the government. By year's end he had drawn closer to the Soviet Union and committed a series of political executions and expulsions. So began a new flow of refugees, one that would profoundly shape the IRC's emerging international role.
Within a month of Castro's rise to power, the IRC was on the scene gathering information and soon become one of the principal agencies helping Cubans to reach America, resettling more than 62,000 during the 1960s and 70s.
As more and more refugees arrived in Florida, the IRC opened an office in Miami, its first resettlement office outside New York. IRC caseworkers focused on helping to find jobs, a place to live, and warm clothes for the refugees. Today, the IRC's more tnan two dozen U.S. resettlement offices carry out much the same work.
I was looking for a better world and a new future.
In 1969, two young Cubans hid in a wheel compartment on a jetliner bound for Madrid. One of the refugees dropped into the sea; but the other, a 17-year-old, miraculously survived the nine-hour flight. With the IRC's sponsorship, he found a home in the United States. Then IRC president William J. vanden Heuvel reported that when asked why the young man had taken such an incredible risk, the new refugee replied, "I was looking for a better world and a new future."
This post written by International Rescue Committee president George Rupp in honor of the organization's 75th anniversary was originally published on Apr 29, 2008.