In the fall of 1956, a cable was sent from Vienna to International Rescue Committee headquarters in New York: "Best we can do to demonstrate solidarity with Hungarian liberation forces… is to rush at once massive quantities relief supplies … we are preparing for tragic possibility soviet recapture control of Hungary, when countless escapees will flood into Austria and must be ready with resources." It was signed by IRC chairman Leo Cherne and president Angier Biddle Duke.
A week earlier, on October 23rd, Hungarian workers, students, and intellectuals publicly proclaimed their desire to be free from domination by the Soviet Union. Staging a peaceful demonstration in Budapest, two thousand marchers made their way to Parliament Square, where the secret police fired upon them.
The news spread quickly and disorder and violence erupted throughout the capital. The revolt spread across Hungary and the pro-Soviet government fell. The Red Army intervened but failed to crush the movement and withdrew from Budapest.
From Vienna, Cherne and the director of the IRC's Vienna office, Marcel Faust, crossed the border into Hungary in a battered Chevrolet loaded with medicine – the first American relief workers to arrive on the scene. 
Best we can do to demonstrate solidarity with Hungarian liberation forces… is to rush at once massive quantities relief supplies
Since the end of World War II and the division of Europe into rival Soviet and Western blocs, the IRC had been aiding stateless refugees and escapees from the Soviet side of the Iron Curtain. Now, the IRC was at the vanguard of the Hungarian rescue mission: While Duke organized refugee assistance in Vienna, Cherne returned to the U.S. to raise funds. Within 60 days, $2.5 million had collected from the American public – $357,000 of it raised after a passionate appearance by Cherne on the popular Ed Sullivan television show.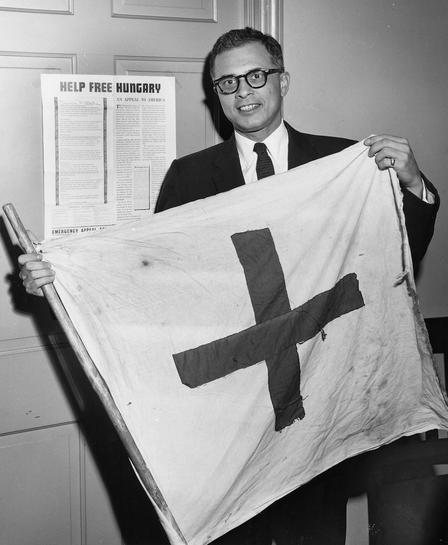 On November 4, the Red Army moved into Budapest and this time crushed the revolt. In the aftermath some 200,000 Hungarians fled into Austria. IRC volunteers were among the many that stood on the border to offer aid, encouragement, and support to the refugees.
The burden of so many refugees was more than Austria could handle. So the IRC stepped up its activities in several European countries. We opened health and training centers and homes for children in Great Britain, Belgium, West Germany, and Sweden. Cherne and the IRC brought several leaders of the revolution to the U.S to tell their stories to the American people, including the Mayor of Budapest.
Many Hungarian refugees were resettled in this country. Long after the Hungarian revolt had been crushed and had faded from the headlines, the IRC continued working to integrate Hungarian refugees into their new environment.
This post written by International Rescue Committee president George Rupp in honor of the organization's 75th anniversary was first published on Mar 25, 2008.