The devastating combination of conflict, climate change and the economic turmoil caused by COVID-19 is setting back the clock on the global fight against hunger.
Five years of progress will be at risk without urgent action from the world leaders known as the Group of Seven—G7 for short—who will be gathering in Cornwall, England in June. An estimated 270 million people could face the threat of hunger in 2021.
As humanitarian needs continue to rise, a new report from the International Rescue Committee (IRC) outlines the immediate steps that the G7 and other leaders must take to avert an unprecedented global hunger crisis.
Treat and prevent malnutrition in children
COVID-19 is having a devastating economic impact on the poorest countries. The cost of food and essentials is fast becoming unaffordable. Prices have skyrocketed even as people have lost their livelihoods.
Acute malnutrition is also on the rise. The COVID-19 crisis could cause an estimated 6.7 million children under the age of five to become acutely malnourished—adding to the nearly 47 million children already suffering from acute malnutrition before the pandemic.
We must act now before it's too late. Actions such as support for breastfeeding and widespread screening and diagnosis of malnutrition must be scaled up. Effective treatment for acute malnutrition must be expanded to prevent unnecessary deaths. Families must have more access to a variety of high-quality, nutrient-dense foods. In addition to tackling malnutrition, these same measures will help prevent famine and hunger, including in countries like Yemen and South Sudan already suffering from near-famine conditions.
We urgently need assertive action from G7 leaders to avert a hunger catastrophe of a magnitude and severity we have never seen before.
Famine is a man-made humanitarian disaster—one that is entirely preventable. "We urgently need assertive action from G7 leaders to avert a hunger catastrophe of a magnitude and severity we have never seen before," says Melanie Ward, the IRC's executive director for the UK.
Ensure humanitarian aid reaches those who need it
Not only is conflict by far the largest driver of hunger, hunger is also being used as a deliberate weapon of war. And the IRC and other humanitarian organizations are finding we are unable to provide aid to people who need it, due to serious constraints to access—including direct attacks on aid workers. This is a violation of international humanitarian law.
We are calling on the G7 leaders to ensure international humanitarian and human rights law is enforced. They must seek to hold those responsible to account, as well as work to prevent violent conflicts from starting in the first place.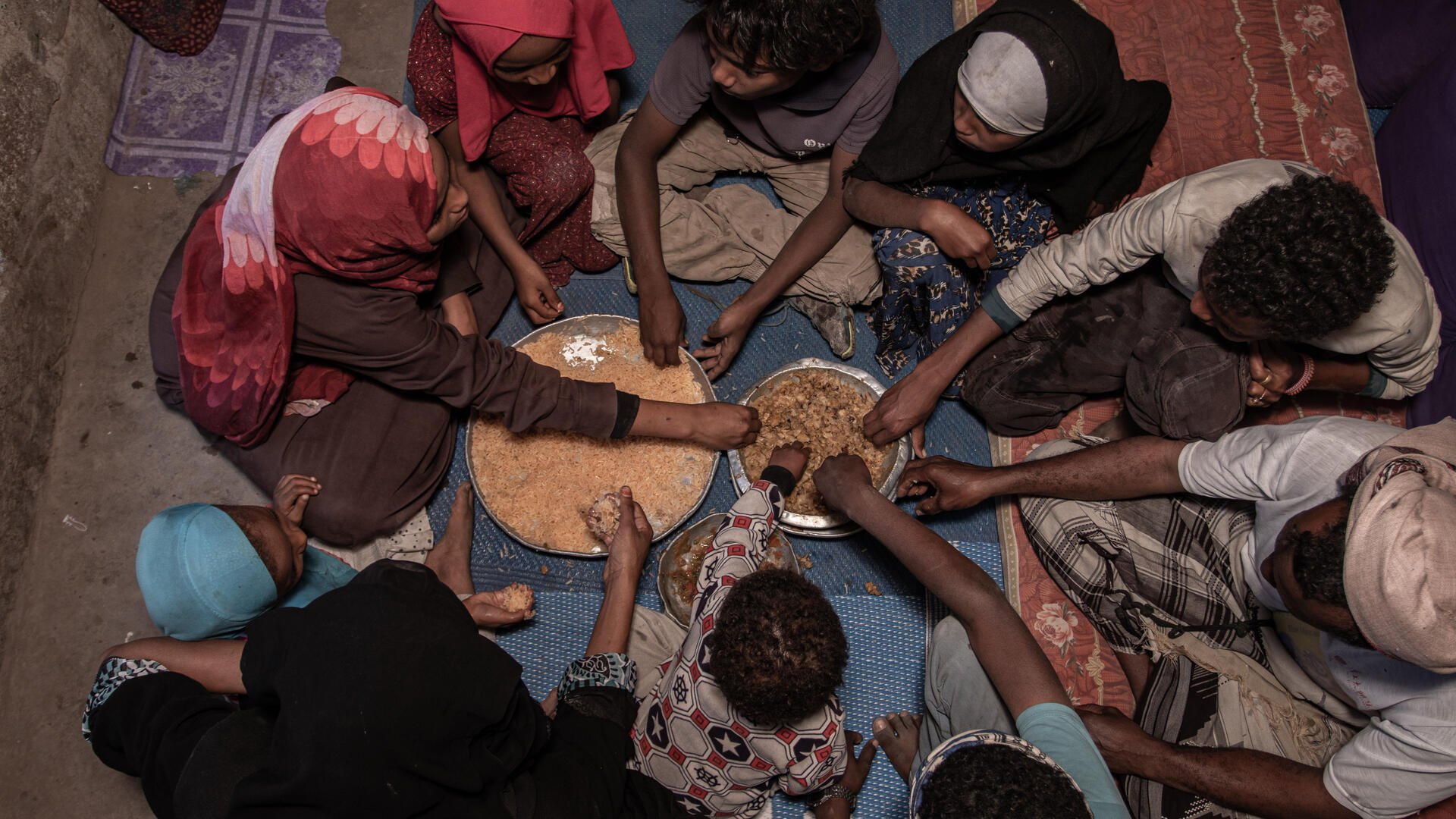 Tackle climate change to end hunger
The climate crisis continues to drive food insecurity and displacement. Higher temperatures, irregular rainfall and desertification have a negative impact on the Earth's food supply. There has also been an increase of flooding, droughts, megafires and desert locust swarms, which destroy agriculture and rural livelihoods. As a result, people are uprooted from their homes and farmlands, and vast regions face famine. The climate crisis can also mean that the risk of conflicts over resources increases. Out of the 20 countries most vulnerable to climate change, 60% are affected by armed conflict.
As global temperatures rise and weather patterns become more extreme, people in the poorest countries will suffer disproportionately. All G7 members must commit to tackling climate change. They must do more and work faster to reach their climate goals, reduce carbon emissions, and contribute toward restoring nature in line with the Paris Agreement goals.
Take a feminist approach to building back better
Women and girls are deeply impacted by food insecurity and hunger. Women provide for and care for their families but often get the least to eat. This is because of entrenched gender roles and structural inequalities that put them at a disadvantage, particularly in war zones and other crisis situations.
However, we know that women also play key roles as food growers and activists. They must be empowered to lead local solutions to tackle food insecurity and hunger, and help their communities become more resilient to climate change.
World leaders at the G7 must take a feminist approach and champion women's leadership in the fight against food insecurity, climate change and famine.
Break the cycle of hunger with emergency funding
Hunger is rising against the backdrop of dramatic cuts to aid budgets. The UK alone is set to spend 40% less on humanitarian aid than before the pandemic. This is at a time when the UN predicts that the humanitarian need in 2021 will be almost 40% higher than in 2020.
But removing barriers to humanitarian access and increasing aid to fund lifesaving treatment for malnutrition isn't enough. The IRC has estimated that $2.3 billion in humanitarian cash funding is required in addition to break the cycle of hardship and hunger that threatens to overwhelm crisis-affected countries.
"Decisions made by G7 leaders in Cornwall will likely have life-or-death consequences for people already suffering from hunger and food insecurity," says IRC president and CEO David Miliband.
Decisions made by G7 leaders in Cornwall will likely have life-or-death consequences for people already suffering from hunger...
"We are seeing one of the greatest humanitarian crises unfold in real time. In places like Yemen and South Sudan, IRC teams are witnessing the human cost of hunger play out in the countries where we work, as an increasing number of people are unable to feed themselves. There has never been more at stake."