New Roots: The food is local. The story is global.
As an essential part of our broader resettlement efforts by the International Rescue Committee (IRC) in Salt Lake City, the New Roots program enables refugees to celebrate their heritage and nourish themselves and their neighbors by planting strong roots—literally—in their new communities. 
New Roots is about healthy families, secure communities and a more sustainable future. It's about dignity, determination and the boundless possibility of human connection. And it's about the power of people to heal and nurture positive change from the ground up. 
In 25 U.S. cities, the IRC provides resettled refugees with the assistance they need to survive and thrive. Through New Roots and a range of other programs, we are helping them to establish a strong future for themselves, their communities and our world.
The three focuses of New Roots in Salt Lake City are...
Community Gardening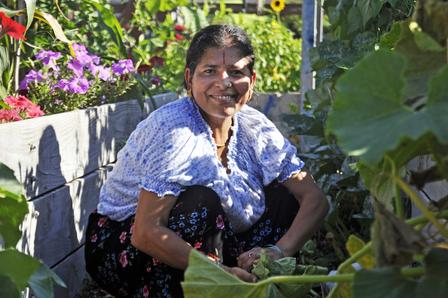 The Community Gardening Program secures plots for refugee families at community gardens throughout Salt Lake City and collaborates with partners such as Wasatch Community Gardens, Promise South Salt Lake, the City of Millcreek, Central Valley Water Reclamation Facility, and Salt Lake County to develop new gardens in high-need areas. New Roots provides seeds, seedlings, and instruction on best gardening practices in Utah to ensure participating gardeners have the best chance to enjoy an abundance of produce through the growing season. The vegetables grown in these gardens help provide supplemental food for participants that is nutritious and easily accessible. New Roots brings gardeners together to share their agricultural skills and connect with their new home and community.  Currently, the Community Gardening Program is working with over 120 families in 11 garden sites across the Salt Lake Valley. 
If you would like to learn more about the Community Gardening Program, please contact community garden program coordinator, Sarah Adams, at Sarah.Adams [at] Rescue.org (subject: Community%20Garden%20-%20Inquiry%20) . You can also learn more about the Community Garden Program and apply to be a participant for the current year here. 
Micro-Training Farm Program
With two farm sites leased through Salt Lake County—Redwood Road, a two-acre farm site in West Valley City, and Wheadon, a 13-acre farm site in Draper—New Roots provides refugee farmers with the opportunity to grow and market a variety of crops. Through direct sales of produce to consumers, the farmers are able to achieve greater economic independence by earning supplemental income for their families. The Redwood Road Micro-Training Farm provides large plots of land for farmers to cultivate, building their capacity to earn additional income. New Roots' most advanced farmers are moving to Wheadon Farm, where they are working to expand into new markets. Between the Redwood Road Farm and Wheadon Farms, over 36 farmers -- from countries like Sudan, Burma, Bhutan, Chad, Somalia and Burundi -- participate in training and technical assistance throughout the year.
You can enjoy produce grown by New Roots farmers at the Sunnyvale Farmers Market every Saturday from June trough October and at the New Roots Farmers Market at Central Park and downtown on Wednesday evenings from June to October.
Food Access: Farmers Markets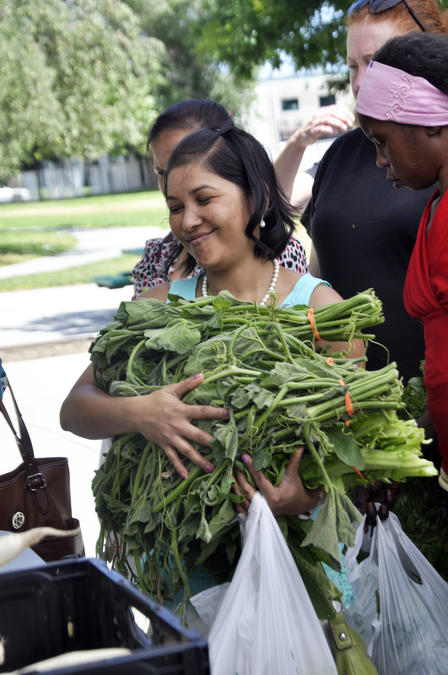 New Roots operates three farmers markets in Salt Lake County, which are an affordable fresh food resource for residents in areas with low food access. The multi-vendor market specializes in specialty crops, common in countries around the world, but difficult to find in the U.S. It also provides New Roots farmers a venue to sell and market their produce. These farmer's markets are open to the public to buy produce grown by New Roots farmers and a great resource for the community for fresh, local food. 
Our market dates for 2021:
The Sunnyvale Farmers Market operates every Saturday, 11am-2pm, from June 19th to October 16th at Sunnyvale Park, 4013 South 700 West, Salt Lake City, Utah, 84123. At the Sunnyvale Farmers Market, you will find local and organically grown produce, a food pantry, and free lunch for kids! 
The New Roots Farmers Market at Central Park will happen on Wednesdays, 4-6pm, from June 30th to October 13th at 2797 South 200 East, South Salt Lake, 84115. This market is in its third year of operating. 
The New Roots Farmers Market at the IRC is in its second year, and will operate every Wednesday, 4-6pm, from June 30th to October 13th at 221 South, 400 West, Salt Lake City, 84110. 
The IRC office will also be a CSA pick-up location. The two Wednesday farm stands will have locally grown, specialty crops from the New Roots farm program.
All three farmers markets offer a 1-to-1 incentive match to customers eligible to receive EBT/SNAP. When a customer spends $30 at the market they receive an additional $30 for free, in the form of tokens that can be spent at the market, for a total of $60 in purchasing power!
Utah Double Up Food Bucks gained state funding support during the 2019 state legislative session. Funds are administered by the Utah Department of Health. This funding will continue year over year, ensuring the farmers will continue seeing the benefits of it.
Learn more about the farmers markets operated by New Roots and check them out on Instagram!
Support New Roots!
How can I get involved as a volunteer?
How can I support the work of New Roots?
How can I learn more about New Roots? 
Updates from the field:
For more information about  New Roots in Salt Lake City, email us at NewRootsSLC [at] Rescue.Org