Widespread drought, food insecurity and conflict across East Africa and Yemen have led to a mass displacement of people. Refugee camps are overcrowded and lack clean water, sanitation and health care, conditions that have nurtured a deadly cholera outbreak, putting millions at risk.
Immediate action is required to address this outbreak before thousands of lives are lost unnecessarily from this highly contagious disease.
Here is what people need to know about cholera, and how the International Rescue Committee (IRC) is responding to the crisis.
What is cholera?
Cholera is a bacterial disease contracted by ingesting contaminated water or food. It is prevalent in places with poor sanitation, unclean water and inadequate hygiene.
An estimated 1.4 million cases and 143,000 deaths occur each year, according to the World Health Organization (WHO).
What are cholera's symptoms?
The main symptoms of cholera are a sudden onset of acute watery diarrhea (AWD), vomiting and leg cramps. 
Symptoms typically appear within two to three days of infection.
Why is cholera so dangerous?
Cholera can lead to severe dehydration and shock. Unless fluids are replaced quickly, death can occur within hours. 
Cholera can cause other life-threatening complications such as low blood sugar (as people become too ill to eat and experience fluid loss), low potassium levels (which interfere with heart and nerve function) and kidney failure.
Time is of the essence. In areas of ongoing conflict, patients must travel far distances across insecure areas to get proper care and rehydration. 
What are the particular concerns for children?
One million malnourished children live in East Africa, a direct result of the current famine, which the U.N. describes as the "largest humanitarian crisis since 1945." Cholera has serious impact on children with severe acute malnutrition.
"Famines are complicated, and malnourished children are five times more likely to die from disease," says Michelle Gayer, the IRC's emergency health director. 
Children suffering from cholera are particularly susceptible to developing low blood sugar, which can cause seizures, loss of consciousness and death.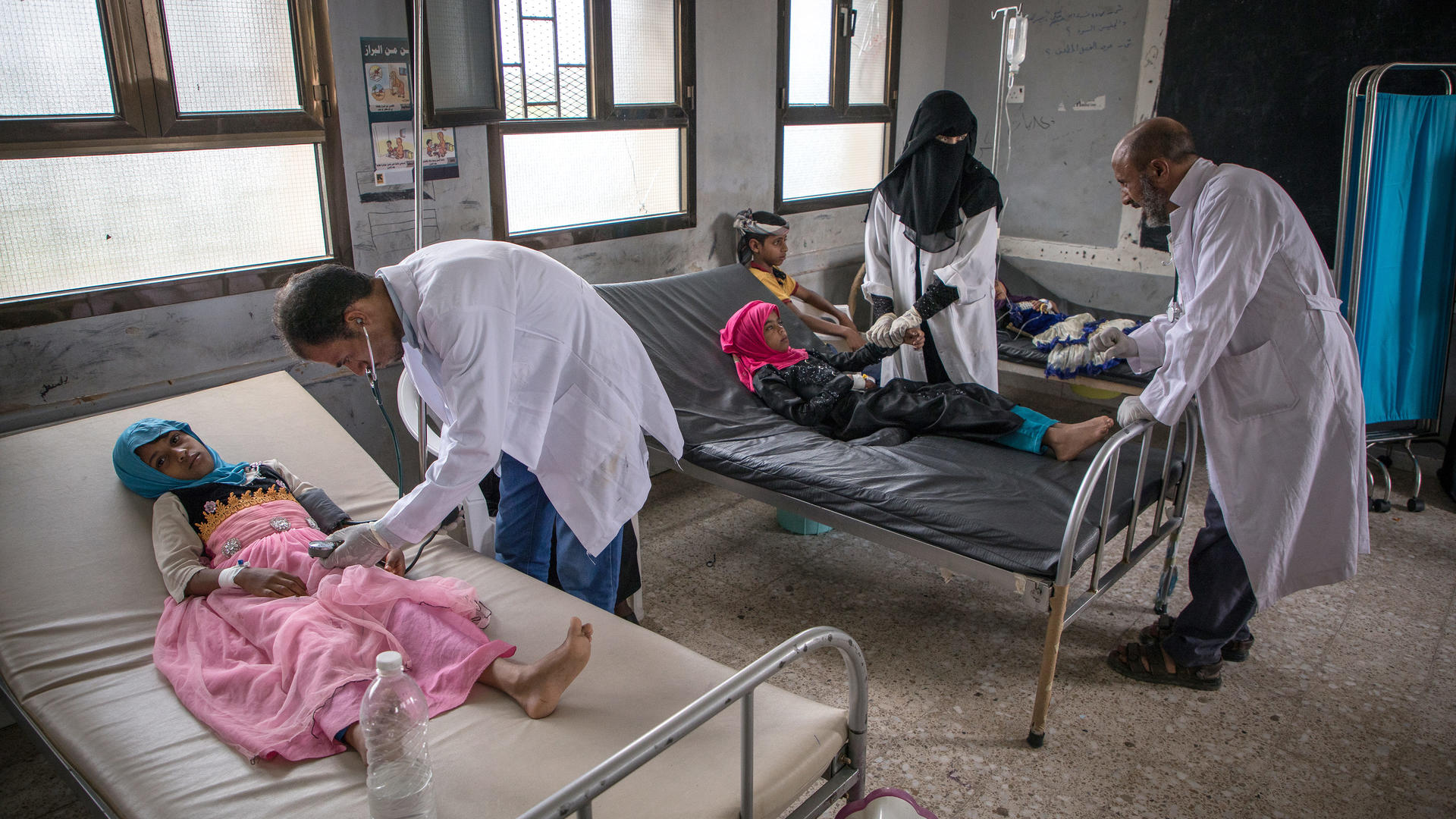 How is cholera treated?
Cholera can be easily treated with prompt medical intervention. People suffering from dehydration can be rehydrated with an oral solution of sugar and salts added to water. The severely dehydrated many need intravenous fluids. Antibiotics can also reduce the length and severity of symptoms such as diarrhea.
Without rehydration, 50 percent of cholera victims die. With proper treatment, that number drops below 1 percent.
What conditions cause cholera to spread?
Cholera spreads quickly in areas without clean water, latrines and proper sanitation. The risk of cholera increases when people are forced to live in overcrowded settlements, such as refugee camps, and areas devastated by famine or natural disaster. Access to health care and adequate surveillance systems help to save lives.
Where are cholera outbreaks occurring today?
Since early 2017, there have been hundreds of thousands of cases of acute watery diarrhea and cholera across South Sudan, Somalia, Kenya, Ethiopia and Yemen. More than 4,600 people have died from the disease. The number of cases rapidly increased in May 2017 alone—almost doubling in South Sudan and more than doubling in Yemen.
"Refugees are being driven from their homes and are arriving to temporary settlements en masse, creating perfect conditions for the disease to spread," says Gayer. "Underfunded aid agencies are not able to build up and deliver services quickly enough to address food insecurity and a cholera outbreak. This is a recipe for disaster."
What is happening in Yemen?
Yemen is facing the world's largest cholera outbreak, which has infected one million people and killed over 2,000 since April. The outbreak is the direct consequence of the destruction of health care, water and sanitation systems during the prolonged conflict plaguing the country.
How is the IRC responding?
The IRC is scaling up an integrated cholera and acute watery diarrhea response across East Africa and Yemen that involves prevention (through distributing an oral cholera vaccine in South Sudan); improvement of water and sanitation in Yemen, Somalia, and Ethiopia; implementation of cholera treatment centers in Yemen, South Sudan and northern Kenya; and education.
"As the rainy season is upon us, we cannot sit idle and watch this crisis take yet another horrific turn," says Gayer. "It is our collective responsibility to do everything to stop this outbreak in its tracks."
How can I help?
Your gift will help the IRC as we work to save lives in Yemen and in countries around the world. Donate now.